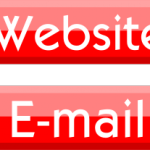 If you are considering ordering web hosting from a web host that has a simple site. You may want to make sure they have been around for a while. Some web hosts that use a really simple site may be a overnight web host and disappear a few months later.
No mailing address
If your web host doesn't have any mailing address visible anywhere on their site this is red flag. You have to make sure there is an actual working address. There is either a mailing address, an office address, or a billing address. For a business to not have any kind of address is a major red flag.
No telephone number
Another red flag for a web hosting business is the lack of a telephone number. Most people have a cell phone in North America so if your web host is based out of North America and they don't have any number listed this is a red flag. Some web hosts may be a small operation but a lack of a telephone number is a concern.
All contact is via support tickets
If the only method of contact is via support tickets than this is another major red flag. If there is no address, no telephone number, no email, and the only way to communicate is via support ticket than you should find a new web host. Having only support tickets as the only method of contact is a big no no.