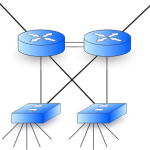 This is a list of the top tier 1-3 bandwidth carriers. The who's who of internet connectivity ISPs. This list of top tier 1-3 bandwidth carriers was compiled by VNKB.com.
VNKB.com used different metrics and attributes to compile the following list. There will be some differences between this list and other lists available on the internet.
Tier 1 bandwidth carriers:
Level 3
AT&T
NTT
Verizon/UUNet
Sprint
GTT/Tinet
Zayo/AboveNet
CenturyLink/Qwest/Savvis
Tata Communications/VSNL/Teleglobe
Tier 2 bandwidth carriers:
PCCW/BTN
Hurricane Electric
Cogent
ChinaNet Backbone
TeliaSonera
Telecom Italia Sparkle/Seabone
Deutsche Telekom
Cable and Wireless
CNCGroup/China169
Tier 3 bandwidth carriers:
TransTelecom
TW Telecom Holdings (Time Warner Cable)
XO Communications
Wind Telecomunicazioni
Interoute Communications
Pacnet Global
Singapore Telecommunictions/Singtel
KDDI
Orange S.A.
Telefonica
Comcast Cable Communications
KPN B.V.
Last Updated: 2016-07-25