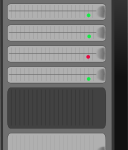 Question: What are clearance servers?
Answer: Clearance servers maybe the cheapest or lowest priced servers available from a  dedicated web host. Clearance servers can feature Atom, ARM, AMD, to Intel Xeon processors. The ram, cpu, memory, and hard drives can vary from web host to web host but clearance servers are just like other servers with the exception of the price. The price for a clearance server can be anywhere from 10% to 80% cheaper than the regular servers offered.
Why are clearance servers so cheap?
Clearance servers may feature older CPU, lesser memory, regular hard drives, to metered bandwidth. There maybe a lot of other different reasons but the most common reason is the technical specs are older and would of been common 4-5 years ago. The technical specs on a clearance server may be so-so because the latest cutting edge servers today are a lot more powerful.
Varies by web host
Some web hosts may mark their servers as a clearance offer because they are trying to find customers for those servers. These regular servers may have been gathering dust because no customers have been using them. The web hosts seeking to find customers for these servers would market these servers at a lower price than their regular servers. These so call "clearance servers" may only be 1-2 years old.
Are clearance servers a good buy?
It would depending on how much processing power, memory, or storage you need. If you just need a typical server than a clearance server could fulfill the job. If you need the latest or most powerful processor, a lot of ram, or a lot storage than a higher priced server would be what you are seeking.
Clearance servers = older technology at a cheaper price
Fast processor, more ram, more storage = modern technology at regular prices