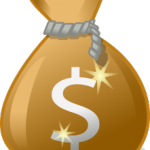 Rackspace (NYSE: RAX) shares closed up 14.64% today after reports surfaced that the web hosting giant was actively engaging in talks about a sale. Bloomberg has a report out citing an article from the WSJ that Rackspace is in advance talk with one or more private equity firms about a sale.
The web hosting giant has a run into a bleak future with Amazon Web Services (AWS), Microsoft's Azure, and Google Cloud fighting fiercely for the same pool of corporate clients. Some of the same web hosting customers that are drawn to Rackspace would also look at AWS, Azure, and Google Cloud as possible alternatives. The rise of Google Cloud, Azure, and AWS has made Rackspace's future uncertain.
With a market capitalization of $3.4 billion dollars after the close of trading today. Any buyer of Rackspace would probably have to offer at least $4 billion dollars to take the company private.